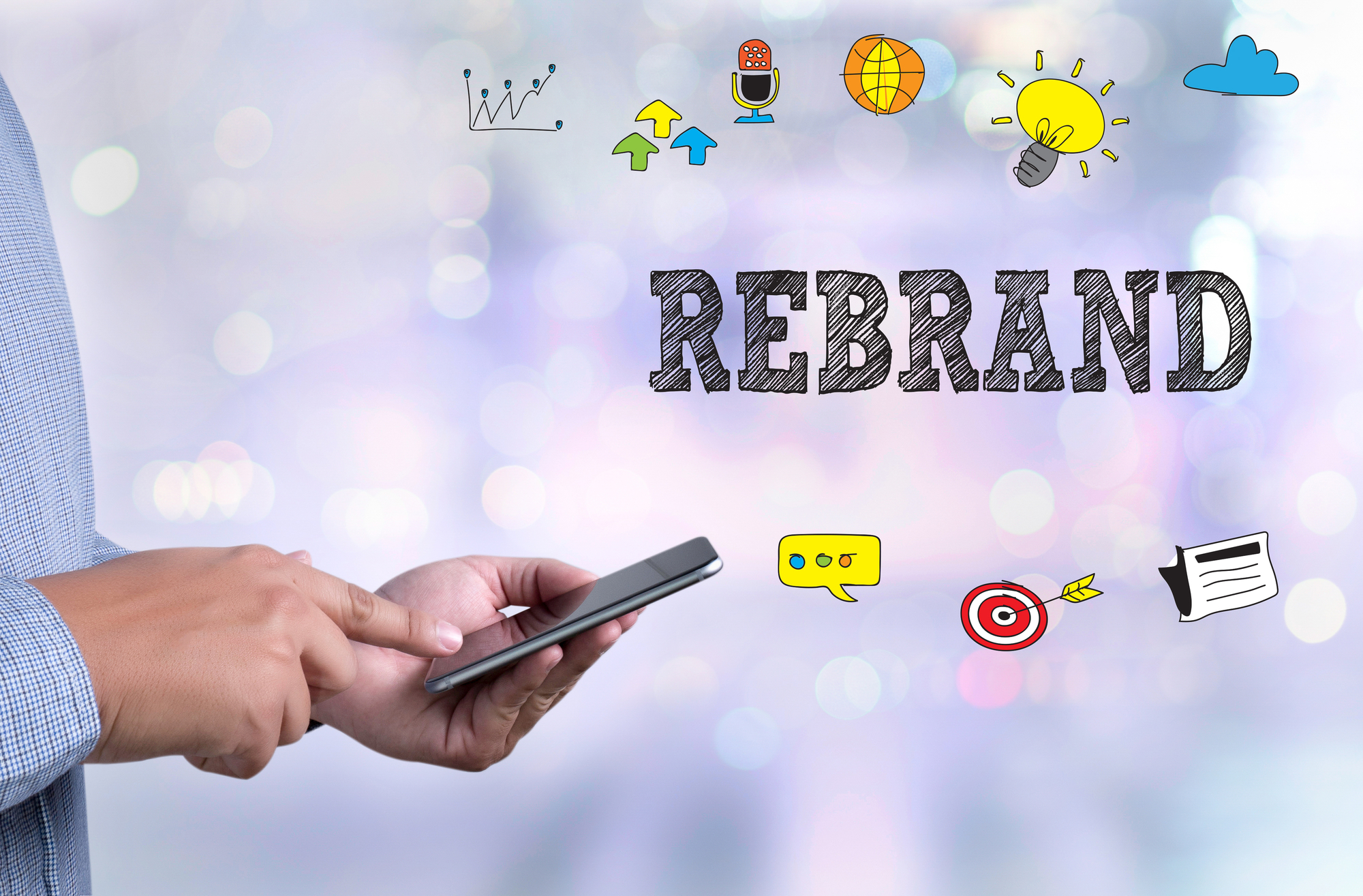 Have you been thinking about rebranding?
When I talk about rebranding I'm not talking about switching niches. I'm talking about the evolution of your business.
Let's also get clear about what we mean by brand, because there are so many definitions.
Your brand is how people think and feel about your business.
It's your job as a marketer to influence how people think and feel about your business– to give life to your brand.
There are two ways to give life to your brand: Visual and Verbal.
Visual Branding refers to how you shape your brand through visual elements, such as logo, colors, and design.
Verbal Branding is how you shape your brand through words, such as web copy, tagline, and marketing message.
The visual and verbal elements of your brand have to work together. But it's generally smarter to start with the verbal.
Here's why… You want to get clear about what you want your brand to say before you incur the expense of hiring a designer to represent that message. Many people do it the other way around and waste a lot of money.
You can have a pretty website but if it doesn't communicate your message, it's a waste of money. Click To Tweet
So start with the verbal branding, then you can give your web designer a clear vision of what you're about that they can capture visually so everything is aligned.
How do you know if you're ready for a rebrand?
Here are 6 signs that rebranding is a good idea for you. You don't have to relate to all 6, but if you can relate to at least 4, then rebranding is knocking on your door.
1. Your Focus Has Shifted
For each of us, there's a hook or a platform for which we want to become known as the expert.
For the first 4 years of my business, my hook was the niche. And as I continued to grow, I realized this wasn't the best reflection of my greatest gifts.
My whole career was in Strategic Communications and messaging is my greatest strength and passion. I wanted to bring more of that to the forefront of my business, and put my focus on message as my hook.
It's not that I don't help people with niche, but my main focus is messaging. That was a key objective behind my rebrand.
What about you? Are you known for one specific thing? Is that the thing you want to be known for?
2.  Your Current Brand Limits Your Growth
While it's really important to go "narrow and deep" within your niche, you also want to make sure that your brand gives you room to grow.
As my business evolved, I felt confined by the brand I had created. Here's why…
My old brand of "Attract Your Niche" was all from my head. It didn't reflect my heart and the difference I wanted to make.
I wanted to put my passion for inspiring people to celebrate who they are in their marketing. To share their authentic message with heart vs. hype.
My new brand gives me the space to communicate that, while still focusing on messaging as the hook.
Look at your brand. Does it give you the space to grow and evolve?
3. Your Message Has Evolved
As we just said, you want a brand that lets you grow. Because the reality is that your message and brand are going to evolve as your business grows.
My own message evolved as my business grew. I realized how passionate I was about inspiring my clients to bring who they are to the forefront of their marketing. To honor their value, voice and vision in their business, and show up in a really authentic way.
So my new name Marketing From Within is a much better reflection of what I'm all about.
Look at your message. Does it capture not just what you do, but why you do it? Do they get a sense of who you are and connect emotionally with you? If not, you need to capture that in your brand messaging.
4. Your Website Doesn't Reflect Who You Are and What You Do
The most obvious way the need to rebrand shows up is tied into website shame or disconnect.
If your focus and message have evolved, as we just discussed, chances are your website doesn't reflect what you do anymore.
But it's more than that. It also has to reflect who you are.
You want your personality to show up in your website. The colors you choose, the look and feel, the words you use…. all of these should be a good representation of who you are.
When I launched my new website in 2015 so many people emailed me to say, "Cindy, it's so you".
Of course, your website isn't a one and done. I'm working on some upgrades right now. But the heart of your website should reflect who you are.
Look at your website. Do you see your personality reflected there? Or does it feel like it could belong to someone else?
5. You Want to Earn More Leveraged Income
If you try to serve everyone with everything, it's really hard to scale your business.
If you're just working one on one with clients, you can do a little of this and that. But when you want to do group programs, you need people going on the same journey together.
And that means you need to grow a targeted list of your ideal clients.
You need to focus in so you can scale up
For instance, one of my clients was serving two audiences. When we let go of one, we were able to redo her website so it was really targeted to her ideal client and then we were able to create and launch a source of passive income for her.
Does your brand give you the opportunity to scale up or is it scattered in different directions?
6. Your Messaging is Disjointed
As you create these sources of leveraged income, you need consistent messaging.
When you launch something new — such as a giveaway, telesummit, challenge, program, etc. — you need specific messaging to position your offer.
But even though you'll have different messaging for different initiatives, all of your messaging has to be aligned with your brand message.
Your brand message is the umbrella for all your marketing. Click To Tweet
So if your brand message isn't clear, and you have all these inconsistent messages for all your different programs and marketing, you're going to dilute your brand.
You want everything you say and do to reinforce the message of what you stand for in your business so you create a strong and consistent brand.
Bottom Line
The bottom line is you should know why you're rebranding before you decide to do it. Make sure it's for good reasons. It's not about trying something new, throwing it against the wall to see if it sticks.
As with everything in your business, your rebranding should be clear, focused and intentional.
Invitation
Are you considering rebranding?
If so, I'd love to talk. It's a pitch free 20-30 minute informational interview where I'll ask you some questions that inform me and inspire you.
During our conversation I'd love to hear more about what's important to you in evolving your brand, and give you some tips to help you get started.
Sound good? Then click here to get on my calendar now.
Thanks and I look forward to speaking with you soon!