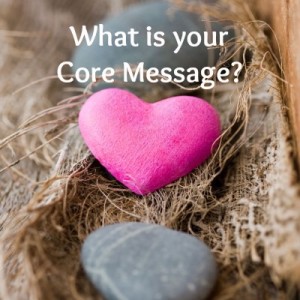 Your Message is the most important part of your business. I know that's a bold statement but think about it. You can have the greatest programs or services in the world, but if you don't know how to communicate your message, you're dead in the water.
Now there are different kinds of messages you want to create.
Most people focus on your Marketing Message. Your Marketing Message focuses on WHAT you do, WHO you help and WHY people should work with you.
But there is another kind of message you also have to create for your business. In fact, it's at the very heart of your business.
I'm talking about your Core Message.
Your Core Message is the big idea you want to share with the world. It captures the emotional core of who you are and what you stand for.
Your Core Message isn't WHAT you do, but WHY you do it.
Think about it this way. Your typical Marketing Message is from the "outside in" – it focuses on your target market, your solution and what makes you unique
Your Core Message is from the "inside out". It focuses on you first – WHY you do what you do.
This is what creates your voice. It's what separates the leaders from copycat marketers
Behind every great bread is a fundamental Core Message. It sets the stage for all your other messaging and marketing.
Your Core Message allows you to stand out by making your position clear. It allows you to take a stand for what you believe in passionately.
When you communicate your belief through your Core Message, you can attract people who share the same values and beliefs. They get you and want to work with YOU! These are your ideal clients.
I'm extremely passionate about my Core Message. It inspires everything that I do, and is at the heart of my coaching and marketing.
This is my Core Message:
"To be a good marketer, you have to know your target market.  To build a profitable business you love, you have to know yourself"
I'm so passionate about this message. When I help my clients discover their ideal niche, we don't start by choosing a target market. We start by looking within at what your strengths, experiences and passions are.
You see, you are important. And yes, you need to speak to the hearts and minds of your ideal clients, and solve their biggest challenges. But you also need to put yourself in your business, and leverage everything that you bring to the table — your passions, strengths, experience and voice.
Because you deserve to work with the people you love to work with, doing what you love to do. You deserve to let your position be known, and let your voice be heard.
These aren't just words to me. They're my whole reason behind why I do what I do.
If you would like to learn more about how to create your Core Message and a Magnetic Message that attracts your dream clients while staying true to who you are, you don't want to miss this special FREE Webinar training!
On the webinar, I'll share specific examples of how to create and use your Core Message to bring your marketing to life!