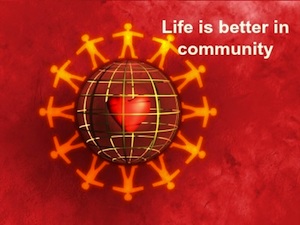 In this world where we're all so disconnected from each other, it's easy to blame technology. But at the same time, technology can bring us together.
If you're a solopreneur working from your home office you understand exactly what I mean. If you're like me, there are probably people you've collaborated with and worked with and yet never met.
One of my biggest values in my business is community. We need  community to help us grow and to make us feel like we're not all alone in this world of entrepreneurship. We need to feel connected to something bigger than ourselves. We need others who we can relate to and who support us in our journey.
As a business owner, creating your own community brings huge rewards. When you provide people with the ability to connect with you and with others who share a common interest or goal, you're building tremendous value which enhances the know, like and trust factor. When people connect to a community, they are also connecting at a deeper level to you. And when you create an online community, you have a great opportunity to learn more about your target market. It's like your own little market research laboratory!
How do you create a community of your own? You can do it in many different ways. Some are paid communities, and others are free. What you build depends on your goals. Here are a few ideas to get you going:
You can use your blog to build a sense of community among your readers. Ask them to leave comments at the end of blog posts, or better yet, ask a question for them to answer that is directly related to your blog post. Also, be sure to include your social media links on your site so people can connect with you there and take the relationship to the next level. You can also create community on your Facebook Page, much like you would on your blog.
Create a free Facebook group or LinkedIn group for like-minded members. Set the rules and boundaries of the community. For instance, you might pick one day of the week where members can promote themselves and all other days are promotion free. Encourage participation by sharing valuable information, asking questions, and connecting members.
Hold a free Community Call where participants can get your help, and also connect with one another. An easy way to do this is to have them register for the call and dial in to a conference line. I do a monthly call for members of my community and it's a great way to add value, while building interaction and community!
Create a paid Membership program where people can get your help in a private community of support.
My program, Smart Action Club, is all about giving you the support you need to take smart action in your business. You might be wondering, why would someone sign up for a paid membership program if they have access to the free community calls. It's a good question.
The key is to find ways to build great value into your paid membership program that goes beyond training. We're all inundated with too much information. So my Smart Action Club is all about implementation support. It's all about coaching, community and support.
Here are some of the things members love most about being a part of the Smart Action Club community. As you'll see from what they share, the community plays a large part in what they appreciate. 
Click here to learn more about Smart Action Club and how you can get the support and community you need to succeed! And please leave any questions or comments below you have about how you can create true community online. Thanks!