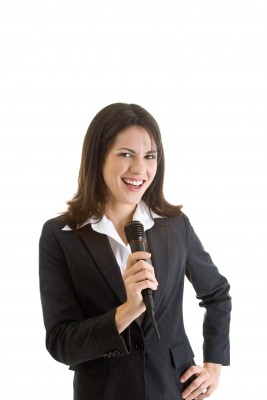 When we think about media interviews, we think about "us" vs. "them". You know — those "got ya" questions so the reporter can get a juicy soundbite.
Thankfully in the world of online marketing, it's not the same thing at all.
When you do an interview — e.g. for a podcast, Facebook Live, or tele summit — you and the interviewer are on the same page.
They still want those juicy soundbites so they can market the interview, but they want soundbites that make you look good.
Because when you look good, they look good. You and the interviewer are on the same team.
After all, they're inviting their audience to learn from you. So it's your job o educate (and maybe even entertain) the listeners.
In fact, many hosts will allow you to suggest some interview questions. They'll still come up with their own questions, often in the moment during the interview. Which is great — that's where the best stuff happens.
Even though you want to go with the flow and you and the interviewer are on the same team — you still you want to make sure you stay on message during the interview.
If you start rambling or go off on too many tangents, then you'll lose the opportunity to get your most powerful messaging across.
That's why it's a great idea to create your Key Messages. These are your main talking/teaching points that you want to communicate during the interview.
We usually create 3 Key Messages so you can share great information without overwhelming people.
When done well, your Key Messages should: 1) educate and inspire the audience, 2) reinforce your brand, and 3) position the call to action you give at the end of the interview (e.g. a free gift you share with the audience).
With your Key Messages in hand, you'll have an easier time doing great interviews and you'll build a stronger brand people remember.
Want to learn more about how to create your Key Messages and how they fit into your messaging strategy?
Click here to get your free message training.