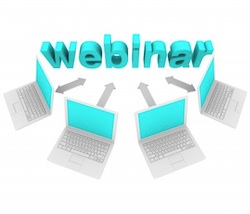 Webinars are a great tool to help you build your business. If you've never done one before, it can seem a little intimidating. But I promise you, it's not. In fact, once you've done one, you're going to be hooked! 
Let's look at why you want to do a webinar and how to do it well.
There's lots of reasons you might want to do your own webinar. It's a great way to build your list, and create deeper connections with people in your community. You can really enhance your expertise and authority by adding great value. And of course, webinars are a great way to promote a product or program.
Decide on your key reason for doing a webinar before you do anything else.
Then, choose a date and time you're going to do it and commit to it! There's nothing like public accountability to keep you on task, so if you really want to get it done, announce the webinar publicly.
In planning your webinar, you need to decide on the following:
The big idea or key theme you want to convey
What content you will teach
What call to action you will include
Be sure to create a gap between what you teach and your call to action. In other words, while you want to provide great value, you can't give it all away. You have to leave people hungry for more and eager to take you up on the next step (your "call to action").
As you think about what your call to action will be, think about what you want people to do at the end of the webinar. Is it to buy a product, sign up for a strategy session, join a program?
From a technical perspective, you want to choose a
webinar service provider
that best meets your needs. Think about functionality size as the ability to easily record, the number of guests who can access the call, the ability to incorporate your branding, and other nice features such as the ability to include a "call to action" link that takes people directly where you want them to go. The one I use and recommend is
Instant Teleseminar,
but there are other options out there you can explore.
In terms of marketing your webinar, you want to create a great opt-in page to inspire people to sign up for the call. Let them know what they will learn and why they should attend.
Then promote your opt-in page everywhere you can: on your blog, to your list, on social media, through joint venture partners, affiliates, etc.
If you've been wanting to do a webinar for a while, make a commitment to do it now! I promise, you will be hooked when you see how easy and effective it is.
Questions or comments? Please leave them below. I promise to respond to every one.